Brick Row Computer Company, LLC.

Contact us:
voice: 518 767 3299
email: service@brickrow.net
Fax: 480 287 8349
How to logon to the Brick Row Spam Control E-Mail System. After reaching this site,
the following screens will depict how to gain access using your @brickrow.net email
address.

1. Navigate to www.brickrow.net
2. Locate the 'MAIN' item on the menu bar. The following should appear.
3.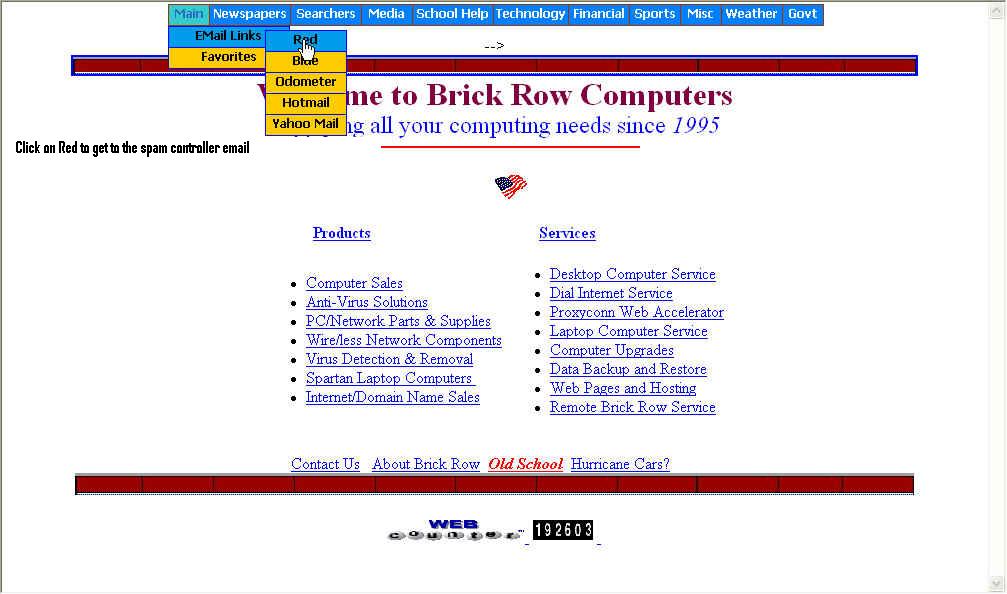 4. After clicking on 'Red', the following will display and you should enter your Brick Row EMail Name
and password assigned to your account-note, it is not necessary to enter the '@brickrow.net':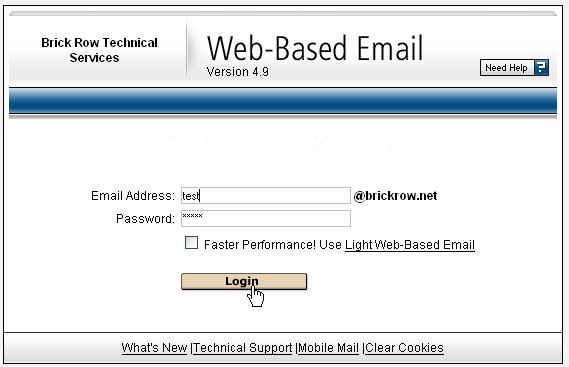 5. The following screen will display upon successful login: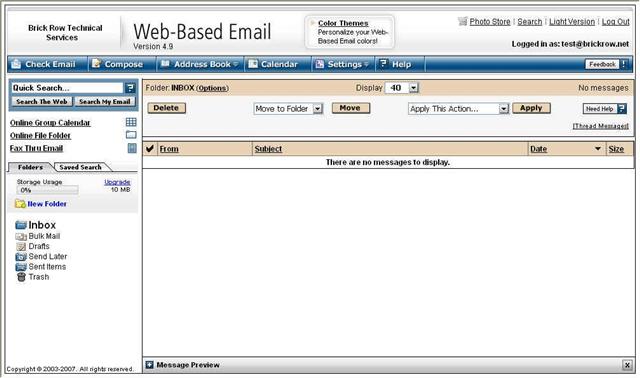 6. The first item of business should be to set the 'SPAM' setting for your account. This is the setting that
determines the amount of what the SPAM Filter 'decindes' is 'Junk' EMail. It is suggested that the
initial setting be at 'Medium' with adjustment, if needed, made after experience si gained.
Using this system, you will be able to set behavior for filtering spam and adding email addresses to your
Allowed List or Blocked List. Adding an email address or domain name to your Blocked List treats email
messages from that email address or domain as spam and filters them based on your spam settings.
Adding an email address to your Allowed List allows you to receive any message from that email address
or domain. It is suggested that you exercise caution in using the 'Blocked' or 'Allowed' for an entire Domain
as it will effect every message coming to you from that domain.

Blocking email addresses would be a better choice when you choose to block email from domains
you 'know about'. If you block email from the address
'test@brickrow.net'
only email from this specific address will be affected.
However, if you block the entire 'brickrow.net' domain, any and all email from brickrow.net will be affected.
You can turn your spam filter on or off, specify how to handle email messages that are identified as spam,
and specify the level you want to use for filtering. All email categorized to be 'SPAM' will be moved to the
'Bulk Mail' Folder. It is suggested that this folder be checked occasionally to be sure there is only 'SPAM' filed
there. Occasionally, 'Good' EMail will be moved there and if this occurs, just click on the message and click on
'THIS IS NOT SPAM' to move the message back to the INBOX.
A very important concern is that, while you can use this page for all your email needs, your
Outlook Express(or any other EMail application) can still be used. These EMail programs move messages
from your 'INBOX' to the 'INBOX' in their program on your computer. Accordingly, each time your
Outlook Express is started, any and all email messages in your online INBOX will be moved to your Outlook
Express INBOX and no longer be available on the Web Mail Page.
The following screen(s) should guide you in accomplishing the set up of the Spam Filter--this
system will significantly reduce the amount of Junk EMail you receive! Just be sure to check the
Bulk Mail folder occasionally!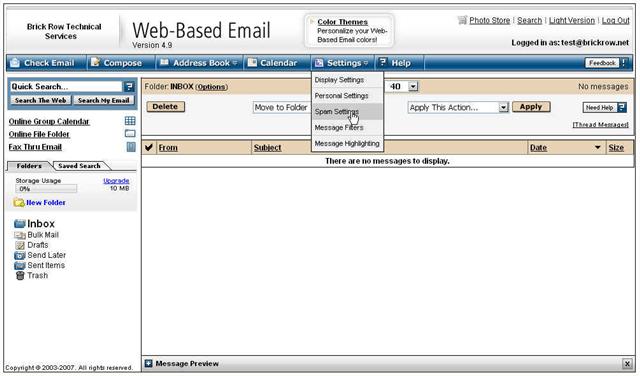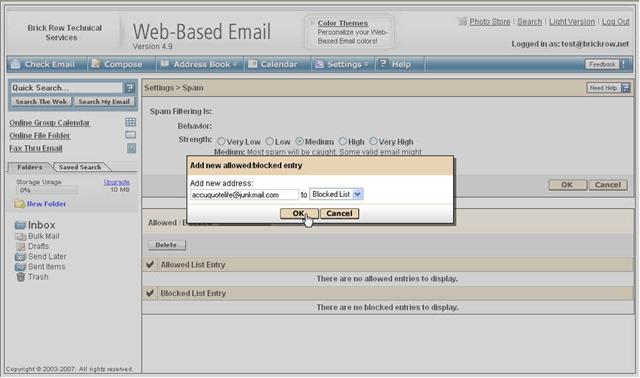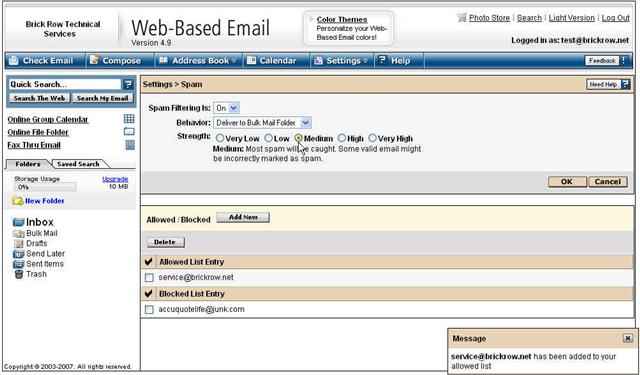 Click to EMail Brick Row Support if there are questions or concerns.
Thank You!